A Secret Landscape
America's Cold War Infrastructure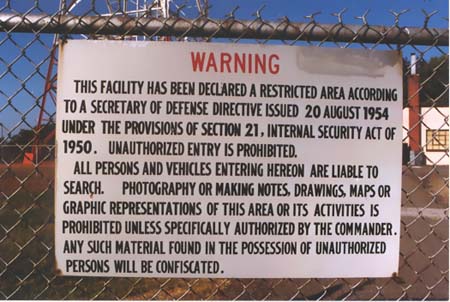 Last update: July 7, 2014 at 00:40
Please check back often as this site slowly evolves into a guide to the places and systems which helped protect America's security during those perilous years of the Cold War. Some of these facilities are still serving their original purposes, some have new roles, some are disused and neglected, some have been demolished, and a few existed only as proposals.
Announcements of updates to this site (and lots more interesting information and discussions) will be posted on the Cold War Communications e-mail list. To join, or to learn more about the list, go to the Yahoo! Groups ColdWarComms web page. If you'd prefer to be notified individually of site updates, just send me an e-mail.
If you have information about America's Cold War infrastructure you'd like to share, or have any questions about the material posted here, I look forward to hearing from you. I'd also welcome your comments about the implementation of this web site.

E-mail: Albert LaFrance, Falls Church, Virginia
Facilities, Systems, and Operating Plans
(214 KB PDF file)
(1.5MB PDF file)
(2MB AIFF file)
(circa 1986)
(compiled by John Cross; 1.2 MB PDF file)
GTE Hawaiian Tel
Former Maui-Molokai microwave link
Maui-Molokai Undersea Fiber-Optic Cable
The Safeguard Anti-Ballistic Missile System
Stanley R. Mickelsen Safeguard Complex - The Stanley R. Mickelsen Safeguard Complex was the United States' first operational ABM (anti-ballistic missile) defense system. The primary goals of this web site are to (1) provide an operational overview of the Safeguard ABM system and (2) document its single tactical deployment at the Mickelsen complex in North Dakota.
A unique and impressive research installation supporting the Aircraft Nuclear Propulsion program
Located in a former limestone mine, this huge underground space has served multiple purposes over the years
Citizens Band Radio
Office of Civil Defense and Mobilization
Ship-to-shore communications for lake and river shipping. How well-known broadcaster and ham radio operator Arthur Godfrey donated a public-safety radio system to this rural northern Virginia county in 1952 (2 MB Word document) Operated by the Forces Surveillance Support Center; sites in Texas, Puerto Rico and Virginia
The OTH-B Radar Receiving Antenna, Tule Lake, CA (demolished)
An early civil-defense public warning system, using power lines to transmit signals to home receivers
The Naval Security Group (NAVSECGRU)
Used at Phu Lam, Vietnam and the AT&T "Project Office" hardened sites
Offshore radar platforms to detect enemy aircraft
An article from 1956 about the "Trak" code converter, developed for the U.S. Navy, which converted Morse code to printed text.
Electronic-intelligence collection ships from the Cold War
Photos of the Circularly Disposed Antenna Array ("Elephant Cage") at this now-deactivated facility; click on small images to view full-size versions.
From the 1960s, describing the capabilities and recent projects of this engineering and construction firm which specialized in large antenna structures.
Built during WWII as a U.S. Navy VLF transmitter site
History, description and photos of the former nuclear weapons storage and maintenance facility in Massachusetts, associated with Westover Air Force Base
A military voice communications network providing rapid and reliable connections between the National Military Command Center and Commander-in-Chief locations worldwide.
Communications for the Presidential Yacht
Several AT&T Long Lines facilities housed equipment providing radio communications to the Presidential yacht Sequoia, as it cruised the waterways of the Washington, DC area. These included the microwave stations at Marriott Hill, Maryland, Pomonkey, Maryland and Oak Grove, Virginia. A field trial of the radio system was conducted at the Edge Hill, Virginia coaxial-cable main station.
This AT&T memorandum from 1971 discusses the need for two additional radio base stations to serve the Presidential yacht and its support vessel:
p .1 p .2 (distribution list only)
A Western Union microwave network linking Department of Defense facilities
A long-distance network serving the civilian agencies of the federal government, built and operated by AT&T
A UHF radio network designed, built and maintained by AT&T to provide communications for Air Force One
Missile Master Air Defense Control System, Fort Meade, MD
This first deployment of Missile Master is described in the March 1958 issue of Radio & TV News magazine:
p. 1
p. 2

Department of State Emergency Relocation Site and Communications Station, Front Royal, VA (demolished)
These facilities were located at what is now the Smithsonian Institution's Conservation and Research Center. According to the Center's official history:
"In addition to the USDA functions, the Department of State used a portion of the Center's facilities as an Emergency Relocation site and a communications station. The State Department equipped several buildings as offices in case of national emergency--enough for the Secretary and 700 State Department employees. By 1972, all that was left of this activity was the communication station. In the winter of 1973, USDA decided to close down the Research Station's operations."
Five nuclear-hardened, secure communications stations built by AT&T in the mid-1960s in sparsely-populated areas of the mid-Atlantic region.
AT&T Buckingham
Please use the AT&T "Project Offices" link above.
A former classified facility at Western Maryland College
Naval Space Surveillance System (NAVSPASUR)
Naval Network and Space Operations Command, Dahlgren, VA
formerly the Naval Space Command
The Joint Emergency Evacuation Plan (JEEP)
From Dec. 23, 1961, with revisions on Feb. 2, 1962 and Feb. 15, 1963)
page 1
page 2
page 3
page 4
page 5
page 6
page 7
page 8
page 9
The Joint Air Transportation Service (JATS) Plan
From Jun. 10, 1960
page 1
page 2
page 3
page 4
page 5
page 6
page 7
page 8
page 9
Plans for Control of Transportation During National Emergencies
A general discussion of concepts, by the Deputy Assistant Director for Transportation of the Office of Civil and Defense Mobilization, presented at the Industrial College of the Armed Forces in 1959.
The document is stored on the server as an Adobe PDF file. Right-click here to download and save the file (1.36 MB) to your computer.
The communications network which activated Civil Defense sirens and alarms in Washington and surrounding jurisdictions
The 210-A Bomb Alarm System
(Can you help identify detector locations?)
Western Union Brochure from June 1960
Read a fascinating story about the Bomb Alarm, the Thule B-52 crash of 1968, and a very long phone line
The legendary emergency relocation site for the federal government.
Passive Microwave Repeater
Thurmont, MD

Mystery solved!
A visitor to this web site has positively identified the structure as a passive microwave repeater, part of a Bell Atlantic 6 GHz radio link between Thurmont and Frederick, MD. The link has been decommissioned but the repeater was not removed, due to the expense involved.
The web page for the passive repeater has been moved to my Bell System web site; the URL is http://long-lines.net/places-routes/Thurmont_repeater/index.html .
U.S. Air Force 789th Communications Squadron
Headquartered at Andrews Air Force Base in Camp Springs, Maryland, this unit provides communications vital to national security.
The 789th operates the "Mystic Star" or Special Air Missions Communications (SAMCOM) radio network, which keeps the President and other senior officials in contact while airborne.
In addition, the 789th manages the GLOBAL radio network. In a nuclear war, GLOBAL would transmit Emergency Action Messages from the National Command Authority to the U.S. nuclear forces. In peacetime, GLOBAL carries a wide variety of defense communications.
Read the Squadron's history.
Davidsonville, Maryland Transmitter Site
Brandywine, Maryland Receiver Site
Work Centers - Describes the site's activities and the equipment used.
Public Emergency Radio: the Decision Information Distribution System
The PER logo - featuring Perki, the PER mascot
Defense Technical Information Center document abstracts:
Booklet from 1958
An extensive contemporary bibliography, plus other relevant information (11 MB PDF file)
Federal Reserve Communications and Records Center (Mt. Pony)
Culpeper, VA
Also known as Site R and The Rock, this little-known underground facility is home to the Alternate National Military Command Center.
A former microwave station for the Alternate Joint Communications Center
These documents from the Kennedy and Johnson administrations, highly classified for more than 30 years, discuss a proposal for a nuclear-bomb-proof command post 3,500 feet (1,067 meters) underground, in the vicinity of the Pentagon.
Western Union
Mention the name "Western Union" and it's likely that most people will think of telegrams and money transfers. Less well known is the role played by The Western Union Telegraph Company in providing communications for national security during the Cold War. As a pioneer in data transmission and microwave radio communications, Western Union built and operated networks which carried important defense traffic.
Former employees of Western Union may wish to join The Retired Western Union Employees Association.
The Western Union Alumni web site offers historical information about the company, its technology and its services. Former employees are invited to register, and to share their knowledge and recollections.
The archives of the Western Union Telegraph Company are available for research at the Archives Center of the National Museum of American History in Washington, DC. The Center's archivists have created a description and finding aids for the collection.
Western Union supported at least two defense communications networks in the nation's capital area: the Washington Area Wideband System (WAWS), and the Automatic Digital Network (AUTODIN). As its name implies, WAWS was limited to the Washington DC area; it linked various defense and intelligence-community facilities. AUTODIN was far more extensive, providing record communications service to military installations around the world.
The Western Union microwave network consisted of a chain of stations which reaching east and west across much of the country, with several branches going north and south.
"Towers for Telegrams: The Western Union Telegraph Company and the Emergence of Microwave Telecommunications Infrastructure", by David S. Rotenstein
Map of the Washington-Pittsburgh-New York City microwave routes (Oct. 22, 1957)
This "radio triangle" was America's first commercial microwave network, placed in service in 1947.
From the Western Union collection (box 82), Archives Center, National Museum of American History, Smithsonian Institution
List of radio stations, as of Feb. 9, 1959
From the Western Union collection (box 82), Archives Center, National Museum of American History, Smithsonian Institution
Advertisement for microwave relay system from Life Magazine, January 20, 1947
"A Microwave System for Telegraph Service" - an article from the July 1954 issue of the Western Union Technical Review.
"Improvements in Western Union's First Microwave Telegraph System" - an article from the April 1957 issue of the Western Union Technical Review.
"W.U. Enters Voice Field" - an article from the January 1962 issue of the Western Union Telegraph News.
Former WU Junction Office near Romney, WV
WU's eastern network control station and an AUTODIN switching center
Former WU Junction Office at Mount Aukum, CA
WU's western network control station and an AUTODIN switching center
Former WU microwave tower near Brandywine, DE
A relay station on the original WU "radio triangle" network
Photo of a Western Union microwave repeater site, ca. 1955; probably near Kansas City
Showing the double-tower, periscope-feed configuration typical of the transcontinental "radio beam" network.
Western Union also operated communications satellites, named "Westar"; select this link to view photos of WU's Sky Valley earth station (north of San Francisco) and San Francisco office.
One of Western Union's many innovations was the "Desk-Fax" machine, a small facsimile transceiver used to transmit messages between the company's commercial clients and its telegraph offices, speeding service and reducing the need for messengers.
An article titled An Improved Desk-Fax Transceiver, from the July 1952 issue of the Western Union Technical Review, describes the machine and its interface.
Here are some photos of the Desk-Fax model which was installed in patron's offices:

CONSOL, DECTRA, DELRAC, DECCA, GEE, LORAN, POPI, OMEGA, DRACO, RADUX
The American Telephone and Telegraph Company - The Bell System
Facilities and Networks with Cold War Significance
The Bell System's nationwide network made the company an obvious choice to provide vital defense communications links during the Cold War. AT&T constructed many dedicated facilities to meet the stringent reliability demands of its national-security customers.
General Bell System web pages
The U.S. Army Warrenton Training Center, Warrenton, VA
A former relocation facility for the U.S. Congress, concealed within a luxury resort hotel. The bunker remained top secret from its construction in 1960 until its existence was revealed by the Washington Post in 1992.
Battery Cove Military Reservation, Alexandria, VA
U.S. Navy Very-Low-Frequency (VLF) Transmitting Station NSS (demolished)
Annapolis, MD
Designing the Giant Antennas - a fascinating discussion of the unique challenges faced by designers of antenna systems for high-powered VLF transmitters.
General information on defense communications
Article on AUTOVON and AUTODIN from the January 1966 issue of the Lenkurt "Demodulator"
Fact sheet on COMLOGNET, the predecessor to AUTODIN
From the Western Union collection (box 44), Archives Center, National Museum of American History, Smithsonian Institution From the Western Union collection (box 44), Archives Center, National Museum of American History, Smithsonian Institution
Discussion Forums
Cold War Communications
an e-mail list devoted to communications networks and facilities of the Cold War era
The Spooks List
an e-mail list focusing on "numbers stations" - mysterious radio transmissions widely believed to contain encrypted messages to clandestine agents
to join, send an e-mail to majordomo@qth.net, with a blank Subject line and the text "subscribe spooks"
Tom's Cold War Message Board
a place to discuss any aspect of the Cold War

Resources

The Cold War in fiction

For retirees from Cold War-era C3I contractors

Other Interesting Topics

Microwave Radio Equipment

Ballistic Missile Early Warning System (BMEWS)

Distant Early Warning Line (DEW Line)

The Semi-Automatic Ground Environment (SAGE)

The Military Affiliate Radio System (MARS)
(Formerly the Military Amateur Radio System)

An underground, hardened records-storage facility built in 1962, converted to a commercial wine cellar.

Former Westover Communications Annex, Amherst, MA - component of the Post-Attack Command and Control System (PACCS)

The 12th Air Force, 1st Radio Relay Squadron (Europe)

Gold (an unidentified project or activity - possibly "Operation Gold", the Berlin Tunnel)

SOSUS

Cheyenne Mountain Complex, Colorado Springs, CO

Built secretly between 1959 and 1961 as a shelter for senior government officials; now open as a Cold War museum

The Essex Bunker (UK)

An underground facility built in 1951

A Cold War hardened bunker in Cheshire, now open to the public as a museum

A vast underground complex near Bad Neuenhar-Ahrweiler, about 18 miles south of Bonn

A component of NASA's Manned Space Flight Network and Deep Space Network (1967-1981)

The DuMont Vitascan System

The Vitascan color-TV imaging system was an impressive example of "outside the box" thinking from the prolific inventors at Allen B. DuMont Laboratories. This article from the July 1955 issue of the IEEE magazine, "Electrical Engineering", gives a brief description of the system.

An early microwave relay system

A proposed aerial communications platform powered by microwave energy from a ground station

The G-Line (Goubau Line)

A fascinating but almost-forgotten technology for long-distance RF transmission over a single wire. This article from the August 1960 issue of the IEEE magazine, "Electrical Engineering", describes the system, its field trials and its prospects for the future.

A mobile telephone without batteries!

Proceedings of the 1946 National Electronics Conference

The Peaceful Atom

A report from 1942 on analog speech scrambling (11 MB PDF file)

A report from 1944 on analog speech scrambling; includes a description of various techniques (6 MB PDF file)

Web Rings